Court Clerk/Administrator
Job Title: Court Clerk/Administrator
Salary range: $60,000-$65,000 DOE
Department: Administration
Hours: Full-Time
Job Description: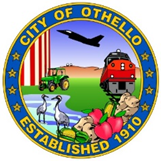 CITY OF OTHELLO
COURT CLERK/ADMINISTRATOR
JOB DESCRIPTION
JOB TITLE: Court Clerk/Administrator
REPORTS TO: City Administrator
FLSA STATUS: Exempt
CLASSIFICATION: Non-Union
PREPARED BY: Tania Morelos, City Clerk DATE: August 2, 2022
APPROVED BY: Shawn Logan, City Administrator DATE: August 2, 2022
SALARY RANGE: $60,000-$65,000 DOE

Position Overview
The City of Othello seeks to fill an open position for a Court Clerk/Administrator. The City of Othello Municipal Court processes approximately 350 misdemeanor case filings each year as well as approximately 300-400 infractions initiated by the Othello Police Department. The court also addresses orders of protection. As a sworn court officer, the successful candidate works closely with the Municipal Court Judge and in coordination with the City Prosecutor, Othello Police staff, attorneys as well as other local, state, and federal agencies in compliance with the Code of Judicial Conduct.
Essential Duties & Responsibilities
The duties and responsibilities listed below are intended only as examples of the various types of functions that may be performed. The omission of specific duties and responsibilities does not exclude them from the position if work is similar, related or a reasonable assignment of the position.
Under general direction, a court clerk/administrator performs a wide variety of financial, technical, administrative, and clerical duties for the municipal court.
Performs a variety of clerical and office administrative duties, including:

attends court, hearings, and trials.

prepares reports for distribution to criminal justice agencies.

creates and distributes correspondence and court files.

certifies legal records and documents.

enters and audits case management file system and ensures accuracy.

completes records searches.

performs notary services.

collects, receives, and dockets all filings.

prepares affidavits of noncompliance.

Processes all new filings, including notices to appear, criminal complaints, and civil filings.

Assists in administering civil and criminal cases.

Processes notices to defendant for failure to appear, failure to pay, and failure to comply.

Maintains judge's and court's calendar and prepares daily schedule. Schedules and confirms hearings, trials, and other meetings and appointments on the judge's calendar and receives and schedules visitors.

Prepares warrants, summons, bond forfeiture notices, and other forms as directed.

Reviews jail booking roster for held inmates, prepares documents for appearances of inmates.

Prepares files for appeals, removal, or notification to district court, including proper notice of appeal, undertaking, and other requirements.

Performs jury related duties including juror lists, preparing, and sending jury notices, checking jurors in, calling off a jury, and providing general assistance.

Requires substantial interaction with the public and co-workers. This sometimes requires communication of complex and/or unpleasant information, requiring the ability to remain tactful, patient, pleasant, and tolerant under stressful situations.
Qualifications
Knowledge of:
High proficiency in general office procedures and office technology.

Principles of court filing and records maintenance, including a strong ability to correctly alphabetize.

Legal language and legal procedures.

Principles and practices used with confidentiality, public records, and discretion in handling and processing confidential criminal history records.

Microsoft Office Products, including Word, Excel, and Outlook.

Basic bookkeeping practices and basic math.

Processing of highly sensitive and confidential information.

High ethical standards, sound discretion and high integrity are professional requirements.

Fluency in English, strong English usage, spelling, vocabulary, grammar, and punctuation skills.
Ability To:
Read instructions, spreadsheets, reference materials, and computer reports.

Professionally communicate with a multitude of different personalities (some angry or emotional) on the phone, through email, and in person.

Create and maintain respectful, harmonious, and positive working relationships with city staff, law enforcement, the public, and criminal justice agencies.

Keep accurate records and correspondence for a large volume of legal documents.

Communicate effectively, both orally and in writing.

Handle confidential legal material with tact and discretion.

Follow City Policies and Procedures and City Court office procedures.

Effectively communicate on a one‑to‑one basis with the public.

Type, create and send emails and enter data accurately.

Adapt to changes in the law, information, and/or technology.
Education and Experience:
Any combination of training, education, and experience equivalent to graduation from high school.

Successful work experience in clerical, secretarial, paralegal, or administrative assistant role.

Advanced proficiency in the use of Microsoft Office 365, Outlook, Word, and Excel.
License/Certification:
Valid Washington State Driver's License is required.
Preferred Qualifications
Fluent in Spanish

Successful work experience as a Court Clerk or experience in the legal field

Experience working with justice system/court software
Physical demands and working conditions
The physical demands herein are representative of those that must be met by an employee to successfully perform the essential functions of this job. Reasonable accommodations may be made to enable individuals with disabilities to perform these essential job functions.
Environment: Work is predominately inside and generally protected from weather conditions, but not necessarily from temperature changes.
Exposure to computer screens.

Mobility: Sitting for prolonged periods of time; extensive use of computer keyboard.

Vision: Visual acuity to read computer screens.

Other Factors: Incumbents may be required to work extended hours including evenings and weekends. Incumbents may be required to travel outside City boundaries to attend meetings.
Acknowledgement
This job description is intended to provide an overview of the requirements of the position. As such, it is not necessarily all-inclusive and the job may require other essential and/or nonessential functions, tasks, duties or responsibilities not listed herein. The City administration reserves the right to add, modify or exclude any essential or nonessential requirement(s) at any time with or without notice. Nothing in this job description, nor by the completion of any requirement of the job by the employee, is intended to create a contract of employment of any type. Email your completed application, resume, and cover letter to the City Clerk at tmorelos@othellowa.gov.
Position open until filled.
Download Application